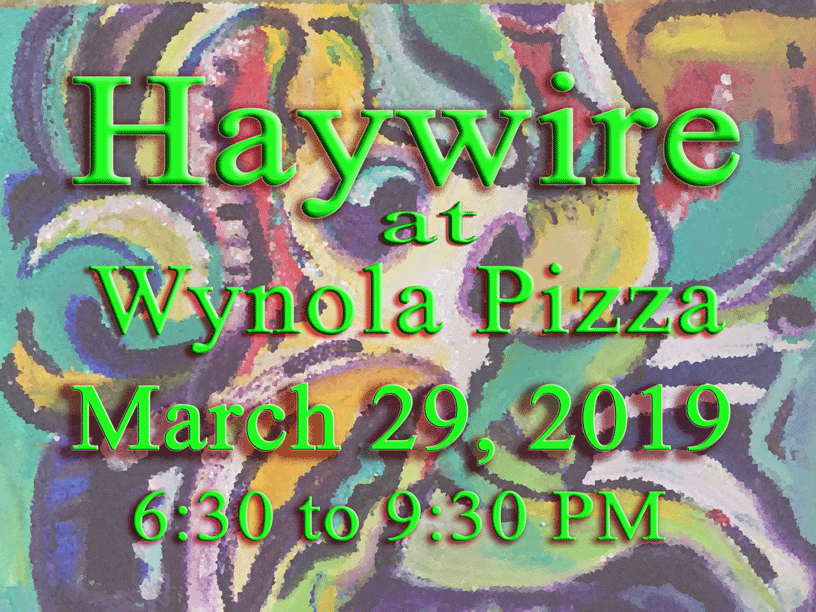 Haywire is recording a new CD in July to include 11 hot-off-the press original tunes by an extended Haywire Troupe of 6 musicians!
Haywire will be playing at Granny's in Julian following the 4th of July parade.
Haywire is an eclectic folk band influenced by Joni Mitchell and Neil Young, venturing from the pop sounds of the Beatles to the beautiful ballads of Tom Waits.We feature old timely tunes and originals. We are a four piece band including guitars, fiddle, accordion, and drums; mixing in a little bass from time to time.
Jim Lydick and Kathleen Beck have been playing together for more than two decades and have written scores of songs. Songs range from the philosophical to the humorous. Jim and Kathleen are the vocalists for the band and are joined on harmonies with Maril Parker. Both Jim and Kathleen play a variety of instruments.
Drummer Paul Gordon performs in numerous bands through out San Diego and is a seasoned veteran having played with Mick Taylor, David Chester and Ralph Landis, and we feel happy to have him. He is versed in many styles of music.
Maril has played music since she was five and plays many instruments. She grew up playing piano, and took up the fiddle a few years back.
Our goal is to play for the love of the song and to blend harmonies and rhythms in original ways, making covers all our own. We all live in the Julian Borrego area and greatly enjoy the experience of mixing our sound! Our upcoming CD is called Random Fun Pack! Come out and enjoy some local flavor.
Listen to the Band's song-
Rock of Ages-